CAS Scoring app


Official Scoring App for ASN!
Click Here to learn how to use CAS Scoring
I want to start by saying thank you to Copperhead Joe, Iron Madden Whiskey Creek Johnson, Ringer, Catatonic, Noah Fitz, Sandy and the rest of the small army of people that worked their butts off to make Black Gold 2020 GREAT! It was hot and I know I did not see them guys stop once. They really know how to put on a shindig up there. Hats off guys what an excellent job. This match had been on our list since we heard about it when we got into this game and it did not disappoint. We felt welcomed and like part of the family. The cab and Uber situation in Manchester KY is challenging so, Copperhead Joe got creative. Since we were not to far from the range in the house we rented, he said "we got you" and got us a ride back. Sandy, Joe's sister stepped in and got a few partying cowboys back to their ranch safely and we really appreciated it. Sandy knew where to go she just asked that we point out the house, other than that all we had to do was enjoy the ride. THANK YOU JOE AND SANDY!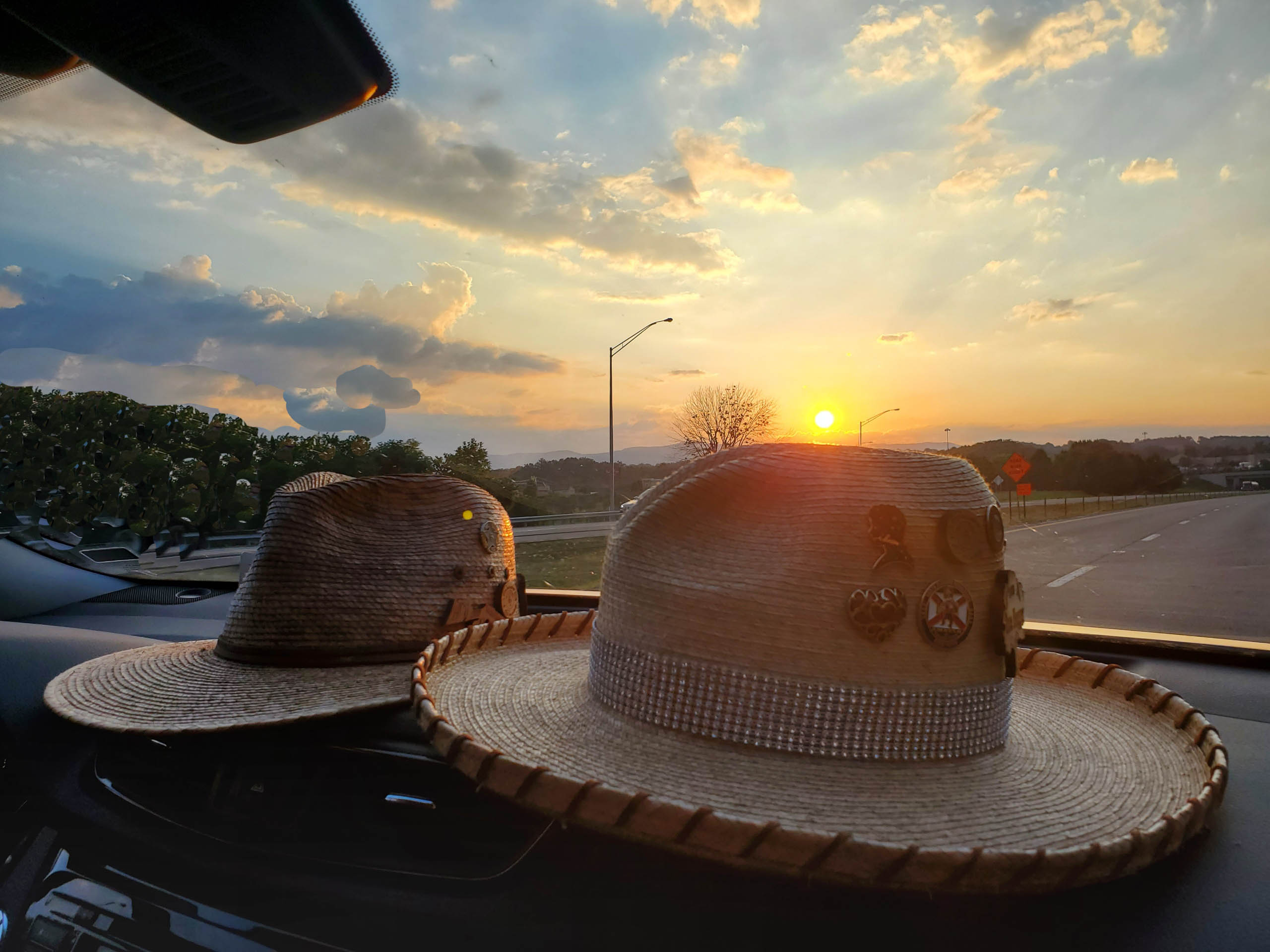 After being cooped up for months and getting back to the monthly matches around here in Florida it was time to get on the road. When I drive to these matches, I am reminded of what a beautiful country we live in. I am appreciative that I can travel and play this game in the land of the free. Coming out of Florida with palm trees and sunsets to the mountains of Tennessee and Kentucky with winding roads and stunning views.  Best of all we where heading to a cowboy match. We all met at the restaurant on Thursday night and like I said when we walked in, "it just felt right" to be there with our cowboy family.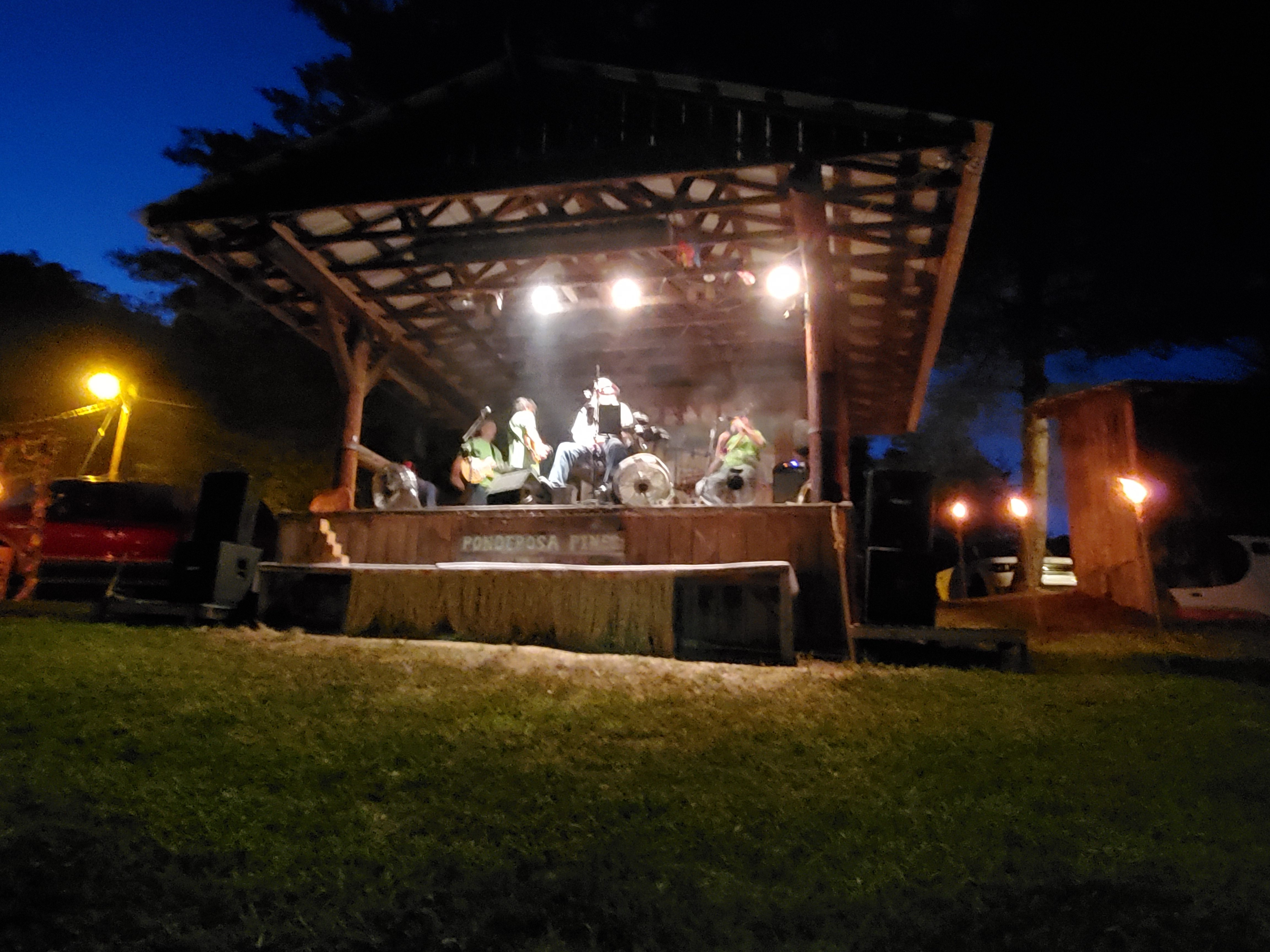 Thursday was side matches and I shot a couple pistol rounds and a few rifle rounds. Times were not blazing but it was good enough fun to be on the range hearing bangs of the burning powder the clangs of the ringing steel.  It was hot but the shade of the berm made it tolerable. We shot all the side matches we wanted to.  went back down to the pavilion to socialize. Seen some cowboys we hadn't seen in some time and some we saw just last week. It was a great bunch of great people.
Friday morning and it's main match day! We popped up like pop tarts and headed to the range. Safety meeting at 9 and we were off. The first 2 stages we shot had a good bit of movement but that didn't phase us none. We mowed them down then moved into the shade. 3 stages in the shade and day one was in the books and I was feeling pretty good about how I did. Madame had a couple get away from her in the first stage but managed to let that go and had a good first day. Shelleen, had a great day 1 playing his game. No blazing times but smooth and clean. I had a good day 1 with the same, not blazing times, but they were smooth and clean.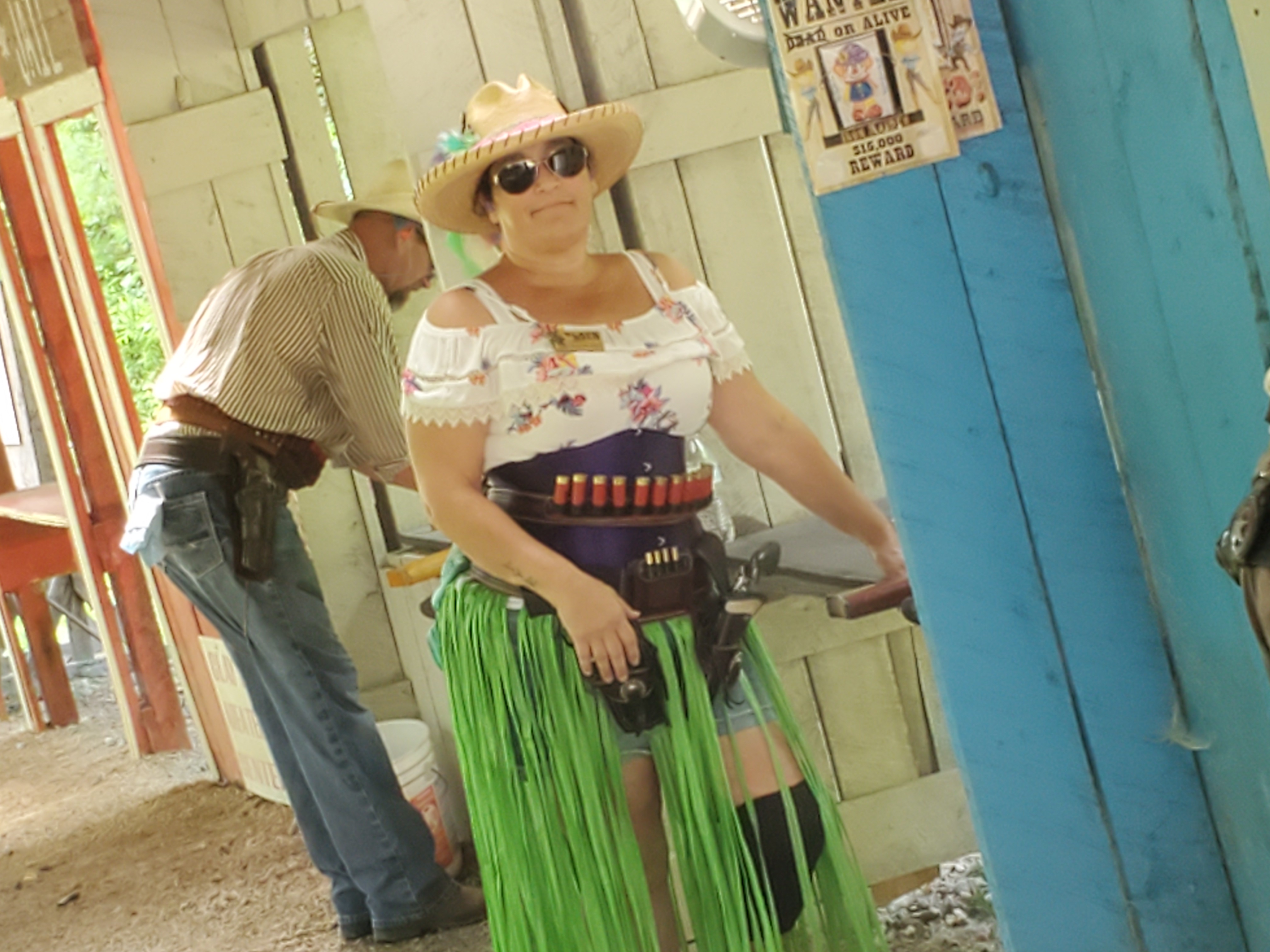 Friday night was a low country boil with the Carolina Gang. Good food and good conversation sitting around the campsites. They had a show going on the main stage and let me tell you, if you know this cowboy crowd you know they were into it. I am sorry I missed it but I did manage to see the back stage where the "savages" were hiding ready to give Gilligan a run for his uncharted desert isle. Some things you can't unsee…..
Saturday morning, same as Friday. We got up hit the range, around 930 the steel started singing again. Madame went to work on the stages like she never left the range. Mowing down the single taps like the champ she is. 5 stages on day 2 for madame and clean. She had a good match. Shelleen, was on fire. Knocking down stage after stage with decent times and clean. Oh by the way did I mention he shot the match clean! Way to not suck Shelleen! You knew that you were not going to get through this whole blog without the heartbreaker right? My day 2 was, lets say, fun. Picked up where I left off with decent times for me and picked up my first miss. I was disappointed because I wanted a clean match but you know, that's how it goes. So, 1 miss. The very last stage of the match I staged my guns and got my beep. The shotgun targets dropped like a bad habit. Picked up Madames rifle after mine had broke and sent those 10 bullets to meet the steel ring, ring, ring… here we go, you ready? I took off for the pistol position and my holster hooked my shotgun stock and it flew like a helicopter off the table to the ground. Yep SDQ on the very last stage with 10 shots left in the match. I looked back and saw it laying on the ground and my brain would not let me believe that it was my shotgun. Even though like Lighthorse Pete pointed out that my name "MOOG" is right on the stock cover. So, my curse still remains and that witch doctor I went to owes me a refund!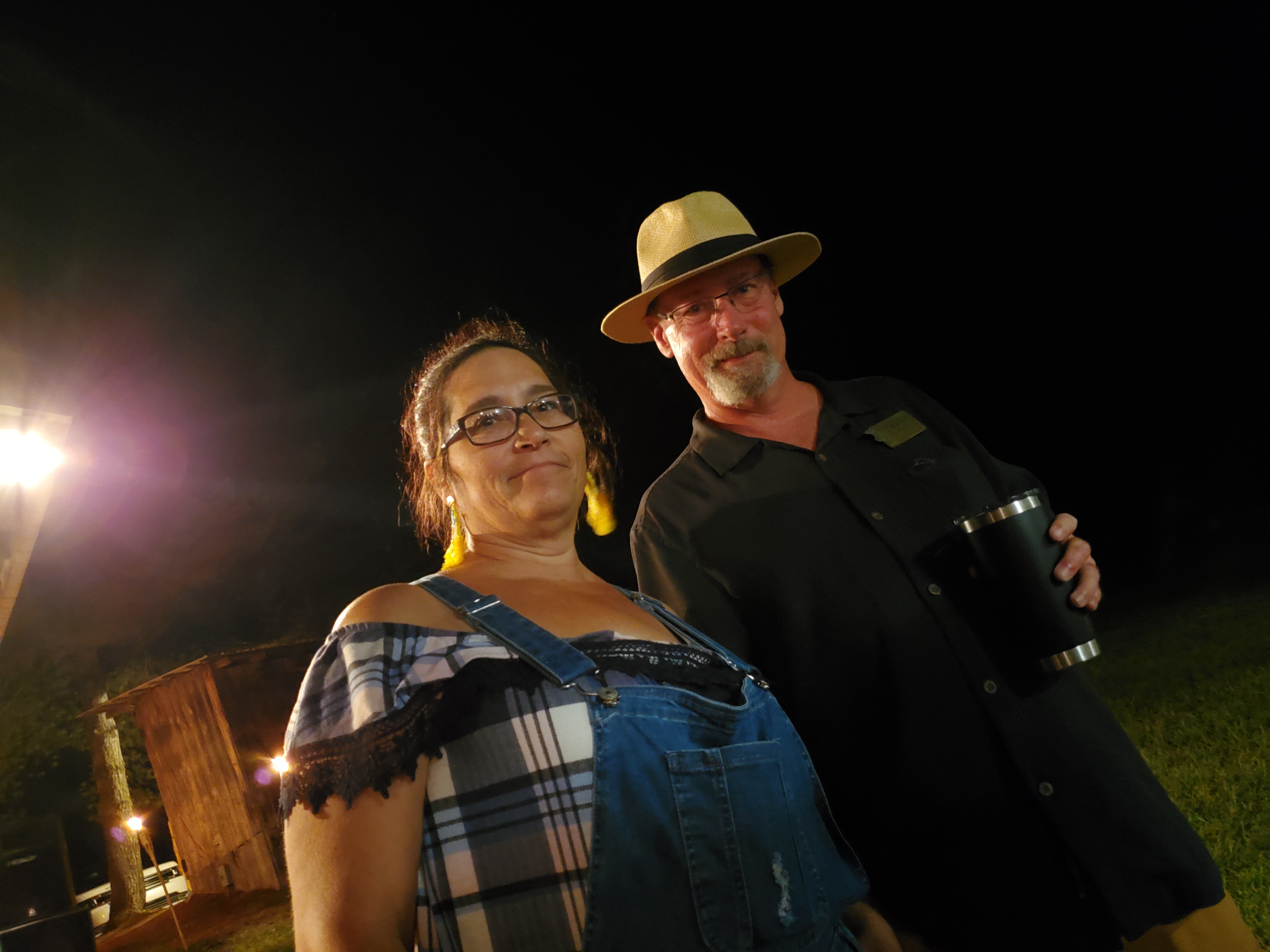 Saturday night, it's time to party! We got back to the range around 6pm when all of the wars were being judged. There were desert wars, grill wars, appetizer wars and moonshine wars. I thought the moogshine war was Friday night so I was pleased to overhear that they were getting ready to sample and pick a winner. I asked if it was too late to enter Madame Moog's Root beer Moogshine and it was not. Well guess what? Madame Moog's Root beer Moogshine won the contest! Now riddle me this. How can a couple of lowland "CRACKERS" from Florida, gonna come to the mountains of Kentucky and win the Moonshine contest? It happened and Madame was spotted giving samples to more than a few cowboys of her "Award Winning" beverage. She also finished 3rd lady wrangler and brought home a Black Gold 2020 trophy. We also won a hand made 2nd amendment plaque that found a nice home in the Moog shop. The tickets came up for a couple boxes of Outlaw bullets from Wimea as well.  Shelleen, what can I say? I know, that you know, that I I like to give Shelleen a hard time. I cant this weekend, he was in a good mood and having fun. He shot clean and finished 3rd 49er and 8th over all at Black gold 2020. I snapped the picture of him walking back with his award and thought that it was so rare for that to happen that it was kinda like a Bigfoot sighting so I had to click the picture for proof. There you go, proof that anything can happen. For me at the party I had to recruit help finish my bottle of Moog's Smaple Moogshine. What a party. Did I mention a different live band Thursday-Saturday night? Them dudes know how to get down!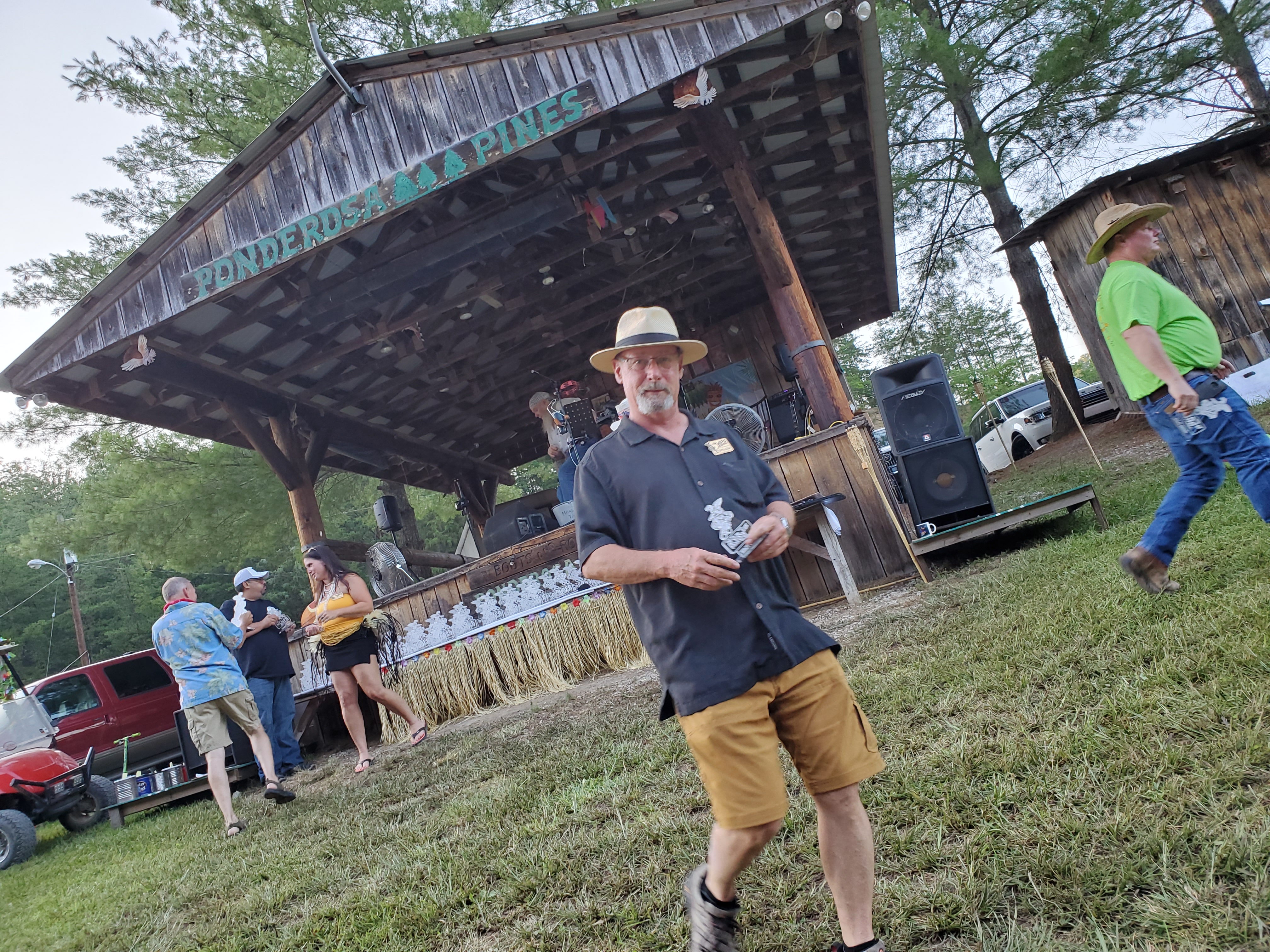 As we come to the end of this blog, the saying "what happens at Black Gold stays at Black Gold" comes to mind and I just had to tell some of the story. And believe me it is just "some of the story" that happened there. Sure, it was a ton of driving for Madame and I with the broken truck then the rental. I had to carry Madame's awards again. Shelleen had a great match and didn't suck. And I, lets just say that I did my normal out of state match. It was still better than a good day at work.